Employers in and around Darlington
11th February 2021 by Abbey Warne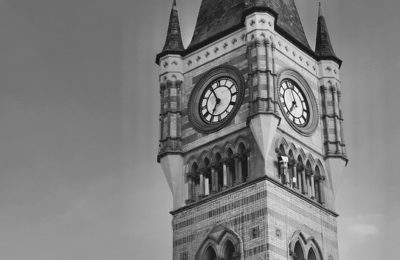 Darlington is a County Durham town with a rich history- the Stockton and Darlington Railway was the first railway that used steam trains for passenger travel in 1825. Darlington still has good transport links and therefore there are opportunities for young people within town or just outside. These include jobs in the arts, retail, engineering, transport and more.
If you wish to commute, Darlington railway station is on the east coast mainline bringing Durham, Newcastle and York within easy reach. There are also regular buses to and from Middlesbrough, Bishop Auckland, Heighington and some other areas, which you can find out more about here.
Let's have a look at the employment opportunities available in Darlington (listed by employment sector):
Business
Capita is one of the largest employers in the town, and has offices across the UK, Europe, as well as in other parts of the world. Capita carries out business in a range of areas including consulting, digital services and software. Their HQ is based in London and it employs over 61,000 people across the world. If interested, you can explore their careers page using the link above.
Retail
The fashion retailer Primark is in a prominent location at the heart of the Cornmill Shopping Centre, Darlington town centre. Primark is a busy retailer with over 370 stores across the world. Its consideration for reasonably priced fashion has attracted millions of people to its stores, both in the UK and abroad, which means you can be assured that you will always be on your feet as an employee.
Amazon is without a doubt, one of the most popular online retailers, but have you considered what goes on behind the scenes? The retailer has seen a huge success during the pandemic, with an upsurge in online orders since the first lockdown. Its Darlington warehouse opened last year, which is Amazon's first 'fulfillment centre' in the North East. It is expected to create 1,000 employment opportunities, which is fantastic news for the region. Roles, including apprenticeships, are available in Engineering, Finance, Human Resources, I.T. and Operations.
Sainsbury's is located a short walk from the town centre, and there is also a Sainsbury's Local close to the centre. The shop is one of the biggest retailers in the UK and purchased Argos in 2016. Employment vacancies can be viewed using the link above. This excellent website also has information on the recruitment process including assessment and interview tips (very useful whether you want to work for them or not).
Government
You will see from the Darlington Borough Council website that they cover so much ground in terms of employment. The council oversees and supports businesses, communities, education, leisure and culture and more. They offer a wide range of apprenticeships– read about some success stories of people who have completed their learning with the council. Study programmes, which teach vital employability skills to 16-18 year olds, are a fantastic way into the world of work.
Arts
Darlington Hippodrome has a range of departments, all of which are crucial to the running of the theatre. These include management, marketing, finance and admin, technical, cafe and bar work and education. In addition, it also offers work experience to young people who live in the Darlington area. It also has a very informative blog for those interested in a career in theatre and thriving social media pages.
Manufacturing
Nobia UK, of which the well-known Magnet brand is part of, is one of the leading kitchen manufacturers in Europe and is headquartered in Darlington. Magnet has more than 200 showrooms and over 159 trade branches. This means it has both retail and trade-focussed roles such as joinery. The company also supports the National Autistic Society through fundraisers and other activities.
Engineering
Hitachi Rail is around a 15-20 minute drive from the town, and is based in Newton Aycliffe. The rail and technology company offer a mixture of practical and office based roles. They recently created the LNER Azuma Trains and offer apprenticeship opportunities in Engineering, Finance, Human Resources, I.T. and Project Management.
Cummins is an engine manufacturing company which is headquartered in Indiana, America. It is great that this company remains a fixture in the town and has done so since 1965. Student placements and internships provide a chance for you to get your foot in the door, and there appears to be quite a lot available at the Darlington branch.
Henry Williams Ltd has a rich history in the town, spanning right back to the 1880s. The company was started to help construct the railways, which were expanding at the time and it is still railway focussed today. This is a huge positive considering the significance railways have in the town, and how advanced Darlington station has become. If you are interested in working for them, their vacancies can be viewed here.
Whessoe Engineering has a long history in Darlington and is over 300 years old. The company's history dates back to the 1790s and during the 19th Century, as William Kitching & Sons, it was involved in the emergence of the railways. Today Whessoe is a subsidiary of Samsung Construction & Trading Company and provides engineering solutions to petrochemical and energy industries. If you're interested in a career there you can hear from employees about their experiences. For those starting out, Whessoe offers apprenticeship and internship programmes.
Science
The National Biologics Manufacturing Centre in Darlington hosts cutting edge biological science facilities for use by leading universities and innovative companies. It is a key part of the Centre for Processing Innovation (CPI) which is headquartered in Teesside. The CPI delivers loads of successful science projects that "are helping to make the world a better place." If you want to make a real difference and build a career in science, you can explore the jobs available at the CPI here.
Finance and Law
Darlington Building Society is an award winning, independent building society formed in 1856 to benefit the local people of Darlington. It has branches in the town and in other places such as Stockton, Northallerton and Guisborough. The careers section of the website (link above), gives you a real feel of what work is like with a community focused financial company.
Santander Bank is an example of a high street bank and is located in the heart of Darlington. The bank is associated with famous faces and the north-east duo Ant and Dec features on its advertisements and website. Employment opportunities including apprenticeships and summer internships can be explored through the web link above.
The north-east law firm, BHP Law, has their head office in Faverdale, Darlington. They provide legal services in areas such as property, family, corporate and personal injury law. The website also features a news section which includes legal advice, latest news and information about the profession. This is a great way to find out more about the company and law as a career.
Hospitality
Bannatyne Group operates a chain of hotels, spas and fitness clubs across the U.K. and the headquarters is based in Darlington, as is one of the four hotels.  The group has roles in sales, fitness, administration, management, maintenance, beauty and spa therapies and hospitality & catering.
Premier Inn in Darlington town centre opened in 2016 along with other businesses in the Feethams Leisure Complex. The chain has over 800 hotels and is a brand owned by Whitbread, a huge hospitality group that also has Beefeater, Brewers Fair, Table Table and Whitbread Inns to name a few. For young people, there are lots of opportunities to work for Whitbread as an apprentice, a University graduate or a part-time student (see the link above).
The opening of the Feethams Leisure Complex (now known as DL1) has also meant more places to eat for residents and visitors in the town, such as Nandos, Bella Italia, Hungry Horse and Subway. Such places can be excellent for part-time jobs for students, ideal for those who attend the local sixth forms and college. They may also offer vacancies for full-time chef roles.
Fitness & Leisure
The Dolphin Centre, which is the go-place for exercise in the town, is a decent sized fitness complex with a reception, pool area, gym, play area, cafe and bar, and it also hosts various fitness classes. Jobs for the Dolphin Centre are advertised on different websites, such as the North East Jobs website and are sometimes on the Darlington Area Jobs Facebook page.
Technology
The international technology company Atos has an office on the Faverdale Industrial Estate in Darlington. The company provides IT services and employs over 110,000 people across over 70 different countries. They also have their own internship, graduate and apprenticeship opportunities.
There are definitely a lot of opportunities to explore. We hope this has helped you find out more about the jobs in Darlington and perhaps provided you with some inspiration for your career journey ahead.
---
Tags: