The best general career websites
26th August 2022 by CareerWave
There are many 'all-rounder' career websites which cover all things careers. They might have several of the following;
a database of job profiles

– each job coming with in-depth information about the role, desired skills and qualities, relevant qualifications and entry pathways
career advice

– including articles about the labour market, growth sectors and industries, post 16 options, post 18 options, employability advice such as CV building, how to apply for jobs and interview skills

career quizzes

– usually personality tests, taking a quiz is a great starting point for careers exploration

engaging real life stories

– designed to bring careers information to life and inspire

teaching resources

– ideas for careers education lessons
Labour Market Information

– most career websites now have current labour market statistics taken from 'LMI for All'
CareerWave's recommended 'all-rounder' careers websites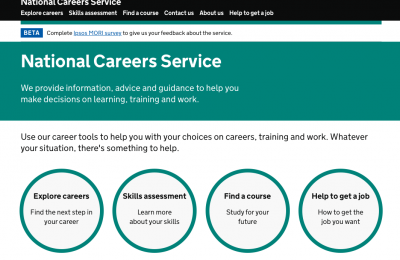 Does what is says on the tin. The National Careers Service website is the reliable place to go for quick, accurate facts about jobs. There are well over 500 jobs in the database, the information is kept up to date and further links are provided to explore your ideas in more depth. Other benefits include;
a skills assessment tool
a course finder tool
employability skills- CV writing, interview skills
webchat facility
telephone helpline for all ages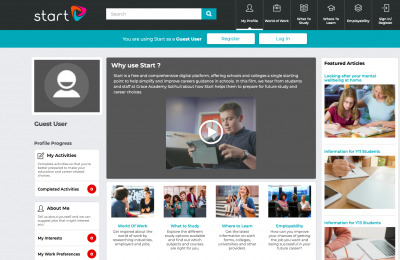 Engaging 'free' resource with personal student profile. Start Profile is free for young people to sign up to and take advantage of the well-presented information and the personal student profile. The student profile allows users to record their careers activities, their skills, qualities, interests, job preferences and likes. Other benefits include;
personal log-in
personal locker in which the student can build and keep their personal profile
action planning tool to support progression
information about jobs
career activities
loads of well-written articles about learning and work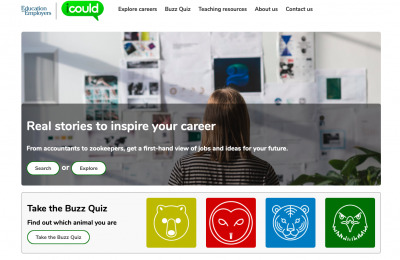 Interactive, fun and The Buzz! iCould is the home of the fantastic Buzz Quiz which is a quick, simple personality test. The test takes minutes and at the end you fall into one of sixteen personality types. Do it and find out who you are and which animal you are most like! Other benefits include;
iCould stories come in video clip form and short informative articles
iCould stories link you into lots of big employers in the U.K. and the world
iCould stories link school subjects to the kind of work they would be useful for
There are also loads of articles about skills, qualities, learning options, career paths and well-being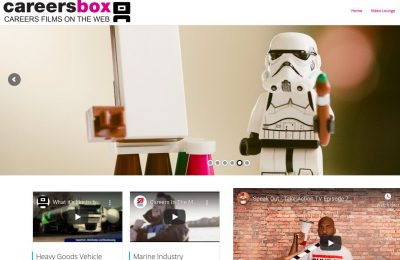 Careersbox has a fine collection of short careers films. Like iCould there are loads of video-stories about jobs including some really interesting niche areas and advice on how to get ahead in your career. Sign up to keep informed about new content as its added.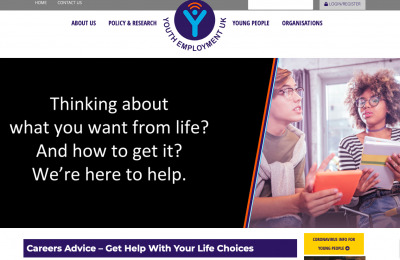 An organisation that cares and campaigns for youth employment in the U.K. The YEUK website houses a Skills and Careers Hub which is regularly updated with insightful articles and guides. Other work this organisation does includes;
Young Professional skills training for 14-24 year olds
Youth Ambassador volunteer programme for 14-24 year olds
Policy and Research related to a wide range of youth matters e.g. the annual Youth Voice Census Report
A Youth Friendly mark for employers recognising commitment to young people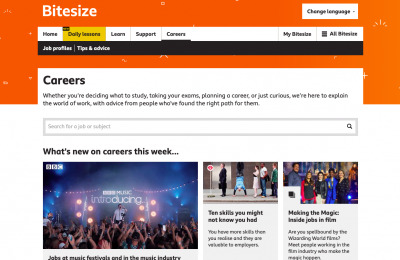 The BBC Bitesize careers website is a fantastic resource with new content added weekly. The many job profiles within its job database uses real stories and video clips that bring the careers information to life. As a result it is very engaging. Other benefits include;
Advice on applying for jobs
Information and advice on the next steps i.e. option choices
Articles about the world of work
Advice for people who are returning to work
Also…….

The 9 to 5 with Stacey Dooley!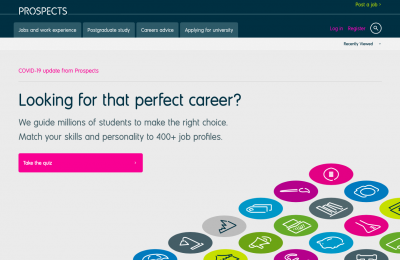 We love the 'What Can I Do With My Degree' section and use it in our career guidance meetings. Prospects is primarily aimed at current Higher Education students and graduates, however it has a broader reach too- it is so informative for those keen on exploring pathways through Higher Education. We find it a really easy website to navigate and it looks great too. Other benefits include;
A database of over 400 job profiles- easy to search
A 'Career Planner' quiz explores motivations, skills and desires and matches them to possible jobs
Graduate jobs and apprenticeships are advertised on this website and linked to the job profiles too
Employability support- help with C.Vs, interviews, applications
Advice about choosing a University course and alternatives
Postgraduate study information and advice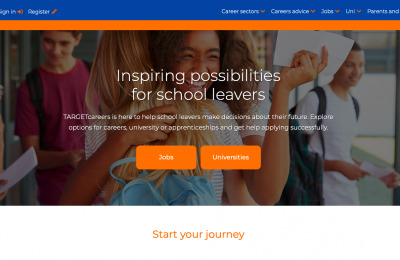 Target Careers brings their vast experience of publishing quality career guides (for learners, parents and teachers) to this website. Although the website is supported by featured employers and Universities, the career information and advice is impartial and up to date. Access to the excellent articles is through questions linked to where you are in your thinking. Other benefits include;
A focus on 14 work sectors
Job profile database
Articles about options, applications, work, Gap Years, decision-making
Profiles of the Top 200 employers
Support with University decision-making including the Degree Explorer quiz
Real time link to advertised jobs and apprenticeships
---